Do you have a major case of the Mondays? (Office Space reference!) I know I did, especially with all this studying.
This past weekend Christine and I went out shopping and here are a few pics from Saturday.
Here's Christine in her Oliver Peoples sunglasses she fell in love with at Off
Sak's
Fifth Ave.
Haha
. I'm a sweater knit me! The same glasses that Christine fell in love with but in tortoise shell! I'm in a desperate need for tortoise shell sunglasses since I have my black Ray-Bans already =(
Here are a pair of sexy
Betsyville
by Betsy Johnson shoes I totally fell in love with. The bottoms of the shoes were sparkly hot pink! They were $149 and
uber
high, but so hot. Please ignore my toes and my Rainbows
haha
.
Christine told me to take a picture in the shoes =)
Some silly, but adorable glasses that make me look like
effin
' Yoko Ono or something.
As I mentioned I got some new stuff from Mac and just wanted to let you guys know what I thought of it.
Left to Right:
Lipglass
in
Florabundance
,
Plushlash
in
Plushblack
, Lipstick in
Honeylove
(Matte)
Let's start with the mascara.
Plushlash
is my new favorite mascara! While I'm still contemplating the
Givenchy
, I will definitely be using this for the next 3 months. I love this mascara so much that I actually want to use it every day! Here's the breakdown of what I have to say about it:
1. It holds a curl
2. ITS ONLY $12!
3. It doesn't flake or clump!!
4. It does great on
volumizing
my lashes and it even lengthens a little bit
5. DID I MENTION IT'S ONLY $12?!
This was a recommendation from Christine (Closet Rebel) and boy am I glad I got it. I actually like this mascara much more then
Fresh's
Supernova and Benefit's Bad Gal. I know I raved about Supernova, but over time the mascara would start to flake and I'd get 'coon eyes (and we all know how attractive that is!). I do not have any flaking with
Plushlash
and the fact that it holds a curl on my lashes is amazing!
Here's a look at the wand.
Here's a picture of my lashes without mascara (click to enlarge =) ) I have typical Asian lashes that point down and are very short.
With
Plushlash
! I don't know about you but I'm shocked at the difference.
So I finally got my first lipstick! I've always been weary about lipstick because I see that it dries out lips and I HATE having dry lips. But I
instantly
fell in love with this color and had to get it.
Mac lipstick in
Honeylove
.
Words cannot express how much I love this lipstick and I found it on a total accident. Christine tried on this adorable pale pink
Shu
Uemura
lipstick while we were at
Nordstroms
and I asked the SA if Mac had something similar and she showed me this. While it's not a pale pink, it gives me the perfect nude-
ish
lip in my opinion. Like I've said before, I've never really liked colors such as Hue or Creme
d'nude
on me and I have no idea why. But no worries because now I have
Honeylove
! At the counter this may look a little too beige, but once you see it in the light you see the
rosey
colors. It's a Matte finish which I adore because I hate when my lips are far too shiny.
Here are my lips with nothing but Palmer's Cocoa butter on them to moisturize so my lips don't dry out.
Here are my lips again just with a flash to see the difference. They're pink... just like most lips
haha
. Nothing too
speical
.
Sorry this picture is a little dark but the one with flash didn't come out too well. This is with
Honeylove
on. The color of my lips are muted but not too much and they still look a little pink. The second picture is just with another layer of it on.
Here's a swatch of
Honeylove
and
Florabundance
on my hand. My arm is a bit tanner then my face (I hang my arm out my window when I drive so I'm brown on one arm and caramel on the other...
FML
) so it doesn't really do much justice but you get the point =)
So I tried on
NARS
Turkish Delight once and totally fell in love with it but I couldn't stand the price tag. I mentioned this to Christine and she said that I should try either Underage or
Florabundance
. I can't remember why Underage didn't work out for me all I know is that I tried it on and looked in the mirror and Christine and I both shook our heads.
Florabundace
on the other hand was just perfect. I guess I'm a sucker for those peachy colors.
Here I layered
Florabundance
on top of
Honeylove
and it made a very nice pale pink color. Again, top without flash, bottom with flash.
On a totally random side note! I went to the car dealership with my friend Tony today after class because he's planning on getting a new car. He's totally in love with this car: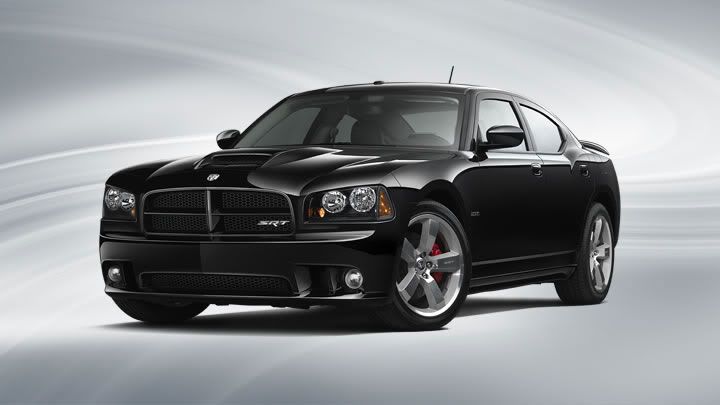 2008 Dodge Charger
SRT
8.
I am by no means a car buff, but after hearing Tony go on about this car for the past couple of days, I think I have two words that sum up this car. "
Vroom
,
Vroom
!" They have one in the show room at the dealer we went to and the guy who owned it previously, traded it in because his wife said it was too fast. The engine is a monster and the inside is huge and I'm pretty sure you can fit 3 bodies in the trunk. I think we spent a good 30 minutes just gazing at the car and sitting in it. Before we went into the show room though, Tony pointed out the Dodge
Challenger
and I had no idea what it was so we walked over to it. I am not a big fan of American cars but I instantly fell in love with this:
2009 Dodge Challenger
SRT
8
As Tony would put it: *drool*!!!! It's a completely modernized muscle car. I wanted to see the SRT8 version but they only open it for serious buyers but they did open up the R/T version and it was amazing. While I never see myself buying this car... well never say never
haha
... but it's just so hot. I think we're heading back tomorrow to test drive the Dodge Charger RT (a step down from the
SRT
8) because Tony decided that he doesn't need such a high performance car... if I don't survive please know that I love you all.
Until next time, lovers.
xoxoxCTang