Hola Chicas , as promised:
Mocha Cupcakes with Cream Cheese buttercream!

Materials you'll need:
Dry mix:
2. Mix softened butter, sugar, and egg in a large mixing bowl until creamy.
3. Add 1/2 of dry mix into the wet mix until the lumps are gone.
4. Combine instant coffee, water, milk, and vanilla extract in a large cup.
5. Add remaining dry mix and coffee mixture into wet mix and combine until creamy and lumps are gone.
6. Line the cupcake pan with your liners and fill liners with your cupcake mixture until about 2/3 full (most recipies say 1/3 full but I love muffin tops!). I usually use a 1/3 measuring cup and pour it in. I find it a lot easier and cleaner. Just make sure you don't go over the liner :)
7. Bake for 20 minutes at 350 degrees! To check if done, stick a toothpick into a random cupcake if it comes out clean then you're good. Allow them to sit then eat alone or top with cream cheese frosting!
Cream Cheese Buttercream
- 4 oz. of softened cream cheese (half of the little tub)
- 1/2 stick of unsalted butter
- 1 tsp. of vanilla extract
- 3/4 cup of powdered sugar
Mix butter and cream cheese together then combine remaining ingredients. I put the frosting in a container and top the cupcakes to serve :) I put it in the fridge and it's fine.
Its so lumpy!
Ahhh! This is what I'm talking about :)
The final product:
The amount of coffee I use has varied from batch to batch. The review on this batch so far is that the inital taste is chocolaty but the coffee comes at you as an after taste. So I'm thinking a bit more coffee next time. I'm used to making half the recipe so that might be it haha. But they always turn out pretty good.
I spent some quality time with
Donna
saurus Rex & the M. Bros (haha like Mario brothers!) and it was so much fun. We hit up Charm City Cupcakes and I have to say... they make the best cupcakes in MARYLAND. No lie, I've never had a better cupcake in my life. It was moist... the frosting tasted like... HEAVEN! And that's saying something since I HATE frosting... I'm a buttercream slut/fattie. But their "frosting" wasn't even frosting... it's it own catagory of decoration! I wish I had my camera with me to take some awesome pics but it was a negatory. We ended up catching dinner at this Vietnamese resturant that looked pretty promising. Haha in our epic failure, when we went to go pay we didn't realize that they didn't take credit cards. Good thing we had cash on us and were able to pay the bill and leave a bit of a tip before we left.
We ate a bunch of food but both of us forgot to bring our cameras so unfortunately there are no pictures of our wonderful time together :( Hopefully the next time we go to Baltimore I'll have my camera ready and going!
My buddy TK and I planned a little chill trip after our final the other day. We've been planning this trip since the third week of our summer class just to have something to look forward to after a depressing final haha. He's been known to jam in his car and I vowed to bring my camera along. He was skeptical about me bringing my camera along (as he should have), but I won't upload any of his jam out videos because I still want to have a friend after I post this haha. But I will show this:
Hahaha! His face is priceless when he realizes what I'm doing.
We had planned to go to Koh's Buloogogi in this town center but when we got there... it wasn't there anymore. Turns out that they moved and I didn't know it so we ended up paying $2.50 for 15 minutes of parking. TK knew of this other Korean place that was about 10 minutes away so we drove over there. I can't remember what it's called or what we got (he ordered in Korean...) and was so hungry I didn't take pictures, but! I do remember that we ordered Galbi which is similar to Bulgogi but the short rib version. They were effin' DELISH! I just googled a few terms and apparently we had
Doenjang
Soondooboo, which is a kind of tofu soup with a broth made to your level of spicy-ness with different kinds of meat or seafood and it came with kimchi, pickled radishs, rice, and spicy cucumbers. All I know is that it was freakin DELISH.
I tried to get a shot of TK's dream car... a Dodge Charger cop car hahaha but was unsuccessful.
We actually got "lost" for a bit but the navigator in my head with the little map got us back to the right road. We were driving on this long country road for a while and he totally jammed to B.Spears but I didn't catch on video :( At last! We got to Caliyo!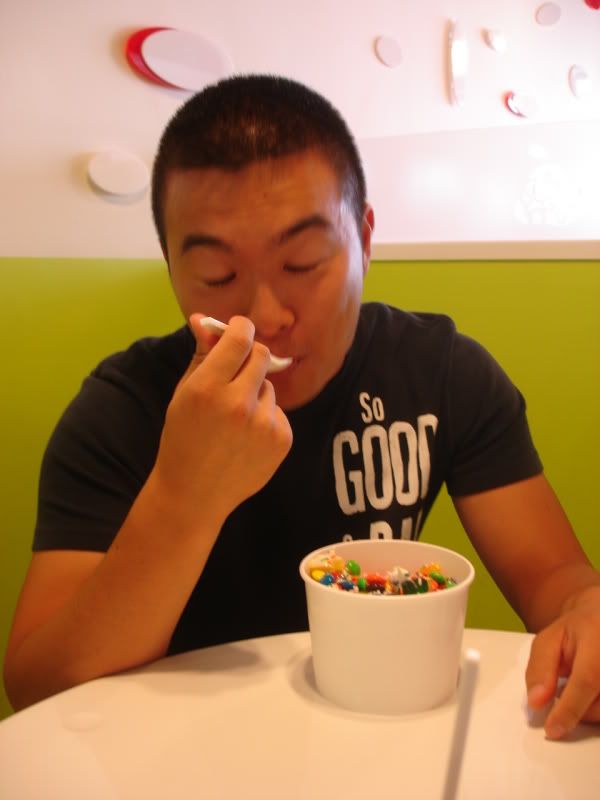 Tony's first taste of my obsession! MMMMMmmmm :)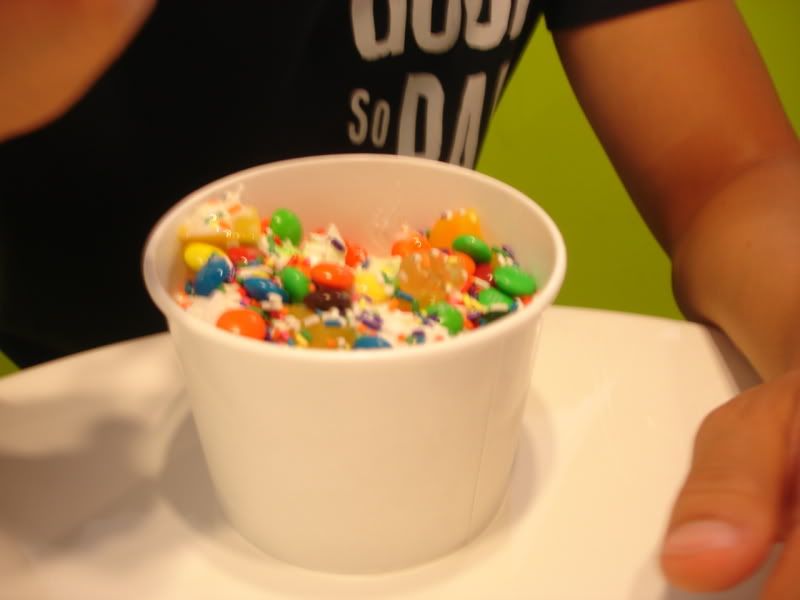 Tony's concoction: mango and honey dew frozen yogurt twist, pink grapefruit frozen yogurt, rainbow sprinkles, gummy bears, M&Ms, skittles... and there may be peaches in there haha
Mine: half mango froyo, half honey dew yogurt, gummy bears, peaches, boboa, mochi!
Hahah I was really happy about caliyo and that I was done with summer classes.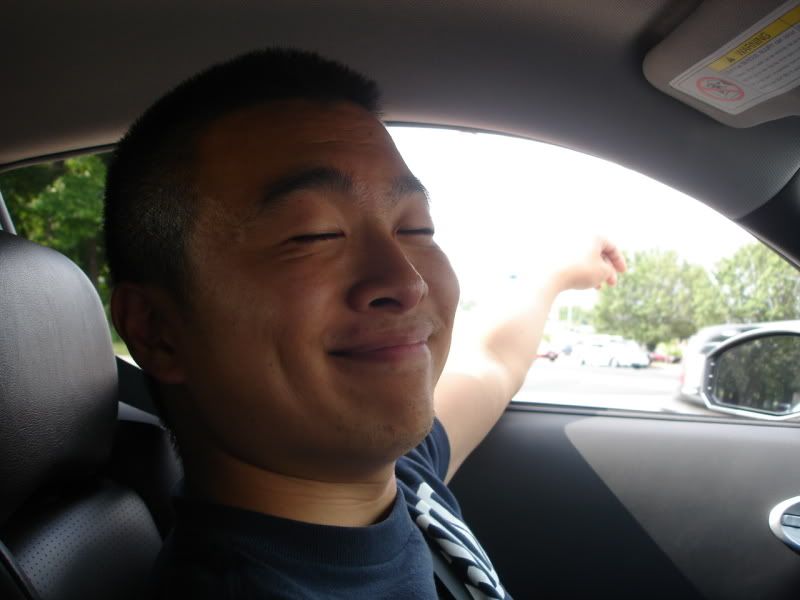 Tony was happy about something. Probably about the yummy yogurt... and our sweet jam session and overall fun time haha. I didn't even realize it until he mentioned it but he looks like Mashimoro!
So I LOVE Harry Potter.To say the least I was UBER UBER UBER EXCITED for HARRY POTTER AND THE HALF BLOOD PRINCE. It's been ages since I've read the books ( I want to re-read them soon though) but I've been waiting for the new movie to come out for a while... I'm still mad that they pushed it back till now but all that matters is that I got to see it. Of course I had to go to the midnight showing...
Dan waiting for my friends to arrive at the theatre so we'd all go in at the same time. He's wearing my glasses. =P
My favorite: Sour Patch Watermelons! I ate Rasinettes during the movie but I also bought these!
I'm not going to lie. I was mildly disappointed by the movie. I thought it was going to be so much darker (similar to the setting of the book) but I found myself laughing more then anything else. I can't lie, the chemistry in the movie is undeniable and the humor is genius! But I missed the big battle and the quality stuff that made the 6th book sit on the edge of your seat while you read. I don't want to ruin the movie for anyone but I'll defiantly be seeing this movie again. Lavender Brown was PERFECT... I know my best friend is still upset that the original Lavender from Prisoner of Azkaban got replaced by some crazy white girl but she played the character so well it's insane.
So this post can't be ended without SOMETHING about cosmetics. My Palmer's Swivel stick has been at it's end for a while now and I always wondered how much was left once it doesn't come up anymore... so I decided preform a little bit of surgery.
I used an Xacto knife and cute off the top (I turned it so whatever was left wouldn't get cut of course) and then I swiveled it back up and popped out the remaining cocoa butter.
There's hella lot left! I'm using this little nub until I run down to the very end cause I'm currently broke as a mo :)
Sorry for the total lack of posts. I've been trying to get organized since I finished class and I have a new job as a hostess on the weekends :) Not to mention I'm trying to live up my summer since it's my first one since my Senior year of high school.
Coming up in future posts:
Until next time, lovers
xoxoxCtang
p.s. Anyone have any recommendations on must haves from their make up collection? I've been trying to buy something new to add but I haven't seen anything that has caught my eye. Whether it be something from the drugstore or Sephora or what now :) Thanks ahead of time.