Anyone that knows me, knows that I am extremely forgetful! I totally forgot a LOT of things that I was going to put in my previous post, but I will make it up in this one :)
First, I realized that I never did a swatch of my Revlon lipsticks on my lips! Dumbass hahaha. So here they are for your viewing pleasure!
Gentlemen Prefer Pink
As I said before, this is my FAVORITE out of the three that I picked up. It gives my lips a noticeable but gentle pearly pink. I've had no problems with this lippie drying out my lips at all and to say the least I'm pretty much in love with it. I can wear it almost everyday with any outfit... other then my gym clothes :)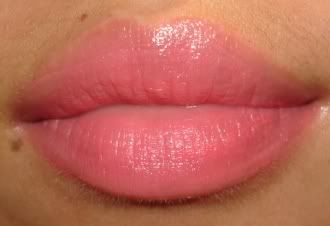 Pink About It
So, this was the BRIGHT ass pink lipstick that reminded me of a strawberry pink. And now you can see what I mean by this swatch. It has grown on me a bit though, but I did find this one to be very drying after a few hours, which is weird because I never had a problem with my other Revlon Matte lipstick. Overall, I don't hate it but I don't love it. I'll probably be a lippie I keep on hand for a day where I'm feeling very fun and confident.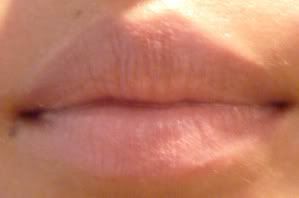 Pink Pout
Ahhhh. The lipstick that sparked the Revlon haul to begin with! I don't think this picture does this lipstick much justice but I absolutely LOVE this lipstick. It gives me the perfect nude lip without washing out my face completely. I've always had that issue with nude lips where it's so nude that it just makes my face look... off. Maybe I'll be able to show you guys in a picture one day. But this lipstick has very light pinks in it and when paired with Florabundance, I've got a lip that is perfect for summers.
So while I'm on the subjects of lipsticks. Christine and I were discussing a few things she wanted to buy (Revlon lippies) and we talked about how surprisingly nice the quality of this drug store lipstick was and then... It occurred to me.
Ever since I bought my Revlon lipsticks, I have completely neglected my Mac Honeylove. I tried wearing this lipstick out many times since I bought it and every time after a few hours, my lips are as dry as the Sahara Desert, despite putting lip balm under my lipstick. Does anyone else have this issue with Mac lipsticks? I know Mac is like the Holy Grail to many blogger babes and extremely lovable due to all their colors and finishes, but for $14 each and such popular demand, I kind of expected something more promising, even if I have to put lip balm under it. So lovely readers I must ask you, do you have the same issue with Mac lippies drying your lips or am I just imagining things? How was your first Mac lipstick experience? Also, what are your favorite lipsticks brands/colors?
Keep or Return?

Since I'm on a ROLL with this beauty stuff, why stop now?! My Lancome BiFacil has been at it's very last days of life for a while and I wanted to try something other then the BiFacil becuase I'll be the first to admit, I am not made of money and my beauty addiction has taken a toll on my bank account. I've read many reviews that
Clinique Take the Day Off
is comparable to the
Lancome Bifacil
. So I went out and bought a travel size of Take the Day Off (
1.7 fl oz for $8.50
at Sephora) instead of the full size (
4.2 fl oz for $17.50
) vs
Lancome BiFacil
which only comes in the
4.2 fl oz size for $26
. That's a whole $8.50 difference for the same amount of product.
Here are my thoughts on the Lancome Bifacil:
- A little bit goes a long way
- very gentle on eyes (doesn't matter if I'm using toilet paper or cotton balls)
- 1 or 2 swipes gets ALL my make up off, including MUFE liner or MAC waterproof liner
My thoughts on Take the Day Off:
- not as gentle as BiFacil, but no tugging necessary to take off make up
- 2 to 4 swipes to get off all water proof liner
- sometimes I have to go back with a Q-tip and get the remaining liner on my eyes
- I generally have to dip my cotton ball 2x
- The layers never seperate properly again after using... instead it creates a 3rd milky colored layer between.... reminds me of Organic chemistry and inorganic layers and organic layers... hahaha I'm such a geek!
Overall thoughts:
Is Take off the Day as great as BiFacil? : H-e-double hockey sticks NO
Is TOTD a good and cheaper alternative to BiFacil?: Yes. Yes it is.
Would I recommend TOTD to a friend?: Totally! My friends and I were playing with make up one day and we all used it.
Verdict: Keep or Return?
Keep.
It's good for what it is and the price doesn't break the bank. Will I be running out to buy the full size when I'm done with the travel size? No. I've read on some blogs that baby oil does the job just as well! We all know that the key in removing make up is oil! Yes, it leave a residue on your face, but I wash my face post-taking off make up anyways! Plus it's hella cheap. It's worth the try. But if baby oil doesn't work out, I'll more then likely return to using BiFacil.
So the lovely
Puff
gave me the blogger buddie award:
I love the icon that goes for it! It's so cute!! Thank you, Puff for giving me this award! You are too sweet. I love the idea behind it because we are all kinda like buddies on blogger :)
Rules:
Pass this award on to bloggers you feel are friendly (hence blogger "buddie" :D) and interesting posters as well!
I award:
Christine
Becks
Roseilee
Stacy
Puff
Amy Naree
Mai
Lisa
p.s.
"Tony Kim" (12:05:21 PM):
I GOT ALL 151 POKEMON!!!!!!!!!!!!!!!!!!!!!!!!!!!

That is the IM I just got...which reminds me that I've been wanting to share something with y'all for a while. There is this website called
Sporcle
that Dan got me addicted to... and I in turn got Tony addicted to this summer. It's basically a category game. For example: Name the Original 150 Pokemon... (which Tony has done God knows how many times) and you just type your answers (if it's the right answer it'll automatically go in, no need to press enter). The site is updated daily with new categories so I do it when I get REALLY bored. I think I've done a good 75% of them... and 20% I've done twice.
I don't know if I've ever told you guys, but I can see the future... I foreshadow...
That I will be writing a post on my thoughts of the movie
500 Days of Summer
, another nail swatch, show you guys a bit of my closet and my shoes, food that I've been meaning to share... and do another tag :D