Hola, blogga chicas! Que paso?! I've been neglecting blogger way too much as of late but life has thrown a few curve balls my way X P but I am back and in action! I have a few new buys to share with y'all and a few tags to do! So as I jam and write this I hope you enjoy it:D
It was my birthday on Monday so I wanted to share some things that I got :D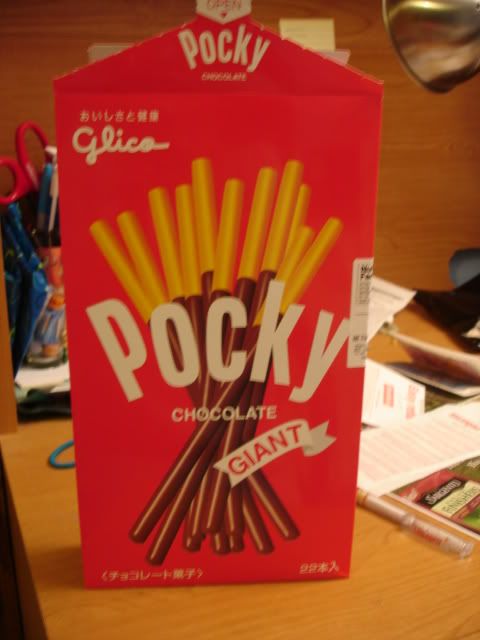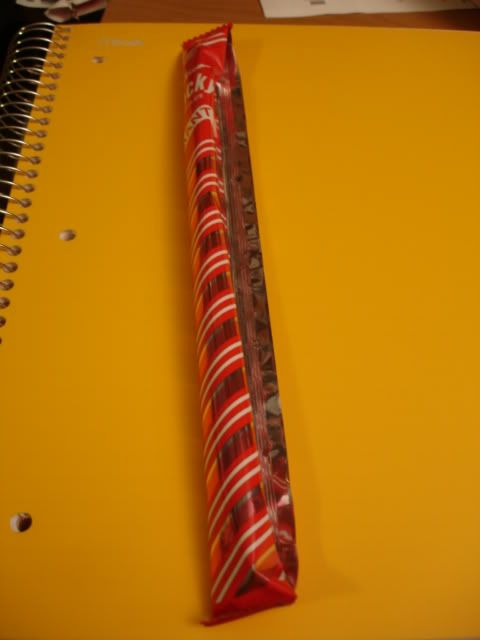 I don't know if anyone remembers this from my previous post but I once saw a box of GIANT Pocky at HMart and my friend Tony happen to get it for me for my birthday. These things are SO freaking good and addicting. I had forgotten how good Pocky was and the fact that they're giant helps. Each box comes with 22 Giant pocky and they are invidutally wrapped. I set it on my notebook to show a size comparison.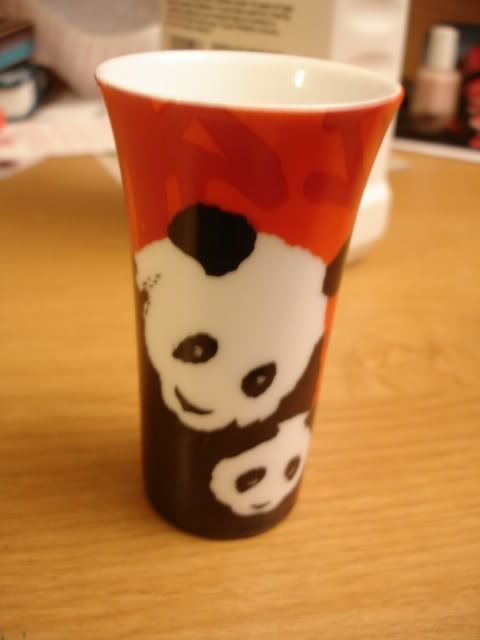 Amanda got me an awesome Panda double shot glass from the National Zoo! It's so freaking cute!! It's just asking for trouble since it's a double but it's just in time for going back to school. She recently started a blog so pay my BFF a visit! She's leaving me for England in the start of September to study aborad and I already asked for Berry M products haha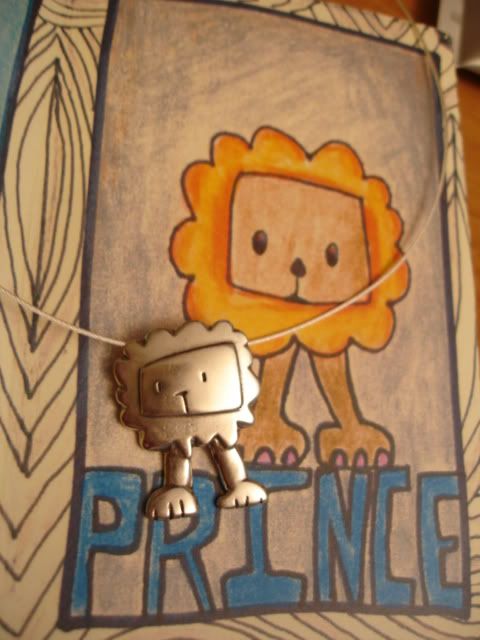 This is the necklace that Dan got me. I found it a few months ago on Esty and thought it was adorable cause I'm a Leo and it's a lion. It's my Mark Poulin. Check him out! He's got man other types of animals and necklaces and rings. I believe his Etsy store is called MarMar. The necklace came in this ADORABLE little box and with a little book of all Mark's characters. I wasn't a big fan of the wire necklace but that can always be changed :)
.
I decided to give Fluidline another try. I epically FAILED at applying this gel liner a few months ago and gave up, but I'm starting to love using liner on my top lid with a wing and pencil smudges, liner doesn't last long enough, so GEL is the way to go! I was about to get the 266 brush to go along with it but I wasn't able to part with 19.50 just yet so I decided to venture into the land of brushes and start finding my HG liner brush... but I figure I will eventually invest in a 266. The MA that put this on me used a 210 and I really like what it did but I figure angled brush first before moving on to a fine tip brush.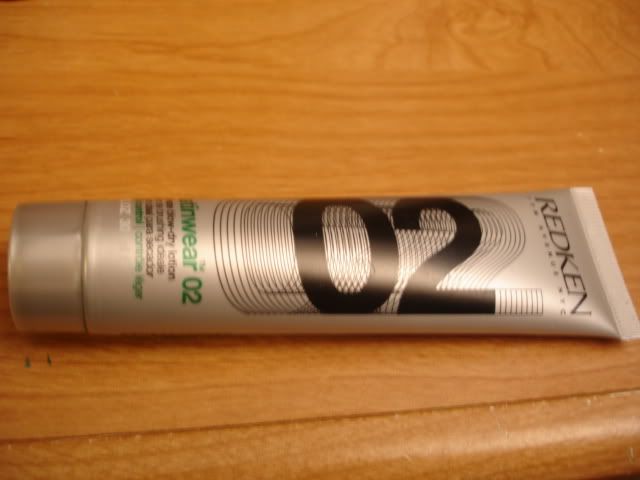 I've been meaning to share this with you girls for a while. This is my Redkin Satinwear 02. It's a blow-dry lotion for your hair. I was on a search for a heat-protected product for my hair when I first cut my hair a while ago and needed to blow dry it every day in order to keep it decent (short hair is so much more work!) and I noticed a burnt hair smell every time after I blow dry my bangs. One of my friends does hair and I told him my issue and he gave me this! I totally love it. Since my hair started growing out, I rarely blow-dry my hair... I ususally just brush and let it naturally dry, but I've been in a rush recently and needed to be presentable. I never blow dry without this now. I just squeeze a little bit on my finger tip and work it into my hair, espeically on the ends and then just blow dry. It makes me hair smell so good and leaves it with a nice shine and healthy bounce.
I got this at Hot Topic the other day since I had a gift card and it was only 9.99. I've been obsessed with his new single Fireflies for some time now and have neglected to buy his CD. I LOVE THIS CD!! Owl City stays true to his style and there's not much I don't love about this CD. The only thing I don't like about this CD is the track "Hello Seattle" which is one of my favorite songs by Owl City is totally different from the old version and I much prefer the older version of the song. Although the differences between the new version and old version are very subtle... I'm very picky when it comes to my favorite songs. My favorite songs are "The Bird and the Worm" and "Umbrella Beach" to name a few :D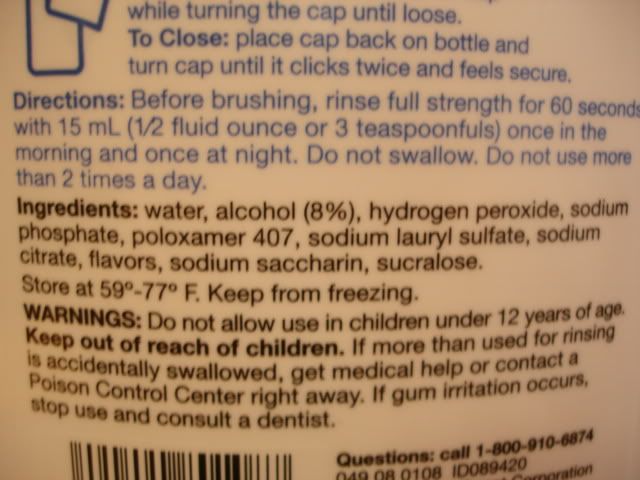 This is my new Target brand Pre-Brush Mouth Rinse. I've been wanting my teeth a lot whiter but I don't want to invest in Whitening Stripes because of what I've heard about them. I chose the target brand over Listerine mostly because of the price difference. The ingredients are exactly the same and so is the amount. The only difference maybe the formula between the two, but hey for a less bucks I'm willing to give it a go. I do have to admit that I have no been using this religiously like I should be in order to test it out. I get lazy when I brush my teeth haha. But I will start using it again and will do a full review later.
I also had a party last week (which I talked consistently about haha) and to say the least it was an insane amount of fun! Donna & I's jungle juice was insanely good. Nothing says drunken mess like some Everclear.
My awesome Panda cake that Amanda made for me with bamboo cuppy cakes!
The Biffle and I! Poor girl was in pain cause she had just gotten her wisdom teeth pulled.
One of my favorite pictures of this summer. The first ever Crack Pack + Originals picture and everyone got the memo to stick out their tongue and make a face! Its so rare that we're able to take a picture together... much less all making a similar face. Gosh, how drunk were we...HAHA
Big Bro & Me! <33333>
A(natomy) Crew! TK doesn't hug... ever so my friend Kristen and I decided to give him a hug!
After I blew out my candles, I decided to basically hug everyone... and rock my friend's GaGa glasses... Donna's face is priceless.
------------------------------
Amy tagged me for this and I found it to be a great way to get to know one another!
1. What time did you get up this morning?
Technically 7:50 'cause of a text but I went back to sleep and woke up at 10.
2. How do you like your steak?
Medium
3. What was the last film you saw at the cinema?
500 Days of Summer
4. What is your favorite TV show?
Royal Pains, Glee, Grey's Anatomy, CSI, House MD
5. If you could live anywhere in the world where would it be?
Boston, Massachusetts
6. What did you have for breakfast?
I don't eat breakfast... but the first meal I had today was Beer Battered Fish and Chips at Cheesecake Factory.
7. What is your favorite cuisine?
Italian
8. What foods do you dislike?
Things that smell bad and involve too much eggs, eggplant, and orange things.
9. Favorite place to eat?
Still looking...
10. Favorite dressing?
Ceaser and Thousand Island
11. What kind of vehicle do you drive?
Toyota Corolla
12. What are your favorite clothes?
Dresses
13. Where would you visit if you had the chance?
I want to go to NYC and Boston.
14. Cup 1/2 empty or 1/2 full?
Hahaha as Demetri Martin put it, "It depends on what's in the cup. If it's a half cup of baby blood, is it going to the baby? Then half full. Is it coming from the baby? Half empty!"
15. Where would you want to retire?
Europe
16. Favorite time of day?
When I can turn off my brain
17. Where were you born?
States
18. What is your favorite sport to watch?
NFL
19. Who do you think will not tag you back?
Uh IDK
20. Person you expect to tag you back first?
Isn't it pointless to do a tag back?
21. Who are you most curious about their responses to this?
Errrbody.
22. Bird watcher?
Uh. No.
23. Are you a morning person or a night person?
After 11 AM person.
24. Do you have any pets?
Nope!
25. Any new and exciting news you'd like to share?
I'm 20!
26. What did you want to be when you were little?
Teen sensation Pop Star
27. What is your best childhood memory?
Pointless careless summers.
28. Are you a cat or dog person?
Dogs
29. Are you married?
Nope
30. Always wear your seat belt?
Yes!
31. Been in a car accident?
yeah
32. Any pet peeves?
Too many at this point in time.
33. Favorite Pizza Toppings?
Pep, pesto, sausage
34. Favorite Flower?
IDK. Lilacs are pretty right now.
35. Favorite ice cream?
Everything but the... by Ben and Jerry's
36. Favorite fast food restaurant?
Sonic
37. How many times did you fail your driver's test?
Once. MD is easy, we drive on a closed course.
38. From whom did you get your last email?
Facebook/My new Chemistry II Professor
39. Which store would you choose to max out your credit card?
Sephora or Mac
40. Do anything spontaneous lately?
Went to FroYo
41. Like your job?
AHAHAHAHAH. Yeah right.
42. Broccoli?
Yes!
43. What was your favorite vacation?
Disney world!
44. Last person you went out to dinner with?
Amanda-face yesterday :D
45. What are you listening to right now?
Fireflies by Owl City
46. What is your favorite color?
Green
47. How many tattoos do you have?
0 :( I'm too scared to get one
48. How many are you tagging for this quiz?
Hahaha no idea
49. What time did you finish this quiz?
2 Days after I actually started it
50. Coffee drinker?
Only when school starts.
I tag anyone that hasn't done it yet!
I've been totally slacking on commenting on blogs...haha... people update faster then I can read (damn squinty eyes!) but I do adore reading everyone's blog.
I've gotten a few new beauty buys... Revlon from CVS's buy one get one free and a few things from ELF (my first ever ELF purchase!) so hopefully I shall share that with everyone next post.
till then, lovers
xoxoxCtang
p.s. I've been on a search for a night moisterizer/cream, what do you lovely ladies use?