I was surfin' my Google reader and read
Dollymix184 aka Holly
's new post and she decided to start her own tag. I love reading her blog and seeing her new finds and she's effin gorgeous!
It's basically your 5 tag... haha kinda like your Fave 5!
Rules:
"You know when your in a relationship and you have the conversation about which celebrities you'd have on your 'list' of people/celebrities you are 'allowed' to cheat on. Well ladies and/or gents, i'd like to know your 5 people you'd have on your List!!!"



Here's my 5... in no particular order ;):


1.

Rob Pattinson
(photo credit: GQ)
Yes, I am one of
those
girls. You've seen him time and time again on my blog and he was amazing as Cedric and wonderful as Edward. I don't care if he smells... if he doesn't bathe... the man is ruggid and had a wonderful bone structure and amazing eyes. He seems adorable in interviews and laughs at his own jokes. He's a musician. He's simply... a living version of Edward Cullen hahaha! Ok, more like a living look a like to James Dean.
2. Patrick Dempsey
(photo credit: Versace)
He won my heart in "Can't Buy Me Love" as the dorky high school kid that mowed people's lawns... we would have thought that the scrawny kid would become McDreamy?! (Btw, "My Love Don't Cost a Thing" with Nick Cannon and Christina Milian was a bad remake...) He is utterly handsome. He reminds me of a classic definition of handsome. His dark hair... his blue eyes... his scruff... and his role as a doctor on Grey's doesn't hurt either... what can I say? I'm a sucker for a guy in a white lab coat... it's the inner geek in me... Plus, what other man rocks Versace like P.D. does?!
3. James Dean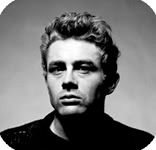 (photo credit: jamesdean.com)
Yup. THE James Dean. The teen icon of the 50s. Yeah, he died young. The fame and his youth was his demise, but it doesn't change the impact he had on pop culture. I can't really explain my facination with James Dean... I guess it's also his story that goes along with it...
"Dream as if you'll live forever. Live as if you'll die today." Looks wise... James Franco is one of the closest living looking a likes to J.D.
4. Zac Efron
(photo credit: GQ)
He may be the object of affection/obsession in every tween's heart... but he just so happens to be mine too! I love it when his hair is slicked back and styled like that... if you haven't been able to tell the 50s is my favorite era. He sings, he dances... I remember when his two front teeth had a gap in the show Summerland (which I was obsessed with for like a season cause JMac was in it). He won my heart over as Link from Hairspray... and since then it was OVER and I've been obsessed. He has grown into a FINE young man... I don't care what people say... man is freakin' hot, right down to his abs.
5.
Tom Brady
No, I did not join the Pats bandwagon because of Tom Brady... I was a fan of the Pats before I even knew who Tom Brady was... but having him as QB on the team sure does not hurt. The man is good... you can't deny it. He's good looking and he's a good football player... let's just over look the fact that he's got a baby mama and is married to one of the prettiest women...ever. The man's got the All-American rugged look going... MMmmMmm... now that he's back and better then ever(I sure hope) the Pats better be AWESOME this year. None of that Matt Cassel nonsense. Boy better win me some big points with Randy Moss this year for my Fantasy Football... sorry my inner geek is starting to emerge.
I tag anyone that's interested in doing it :D
---------------------------
Shop N' Chomp's Giveaway!
The wonderful Lisa of Shop N' Chomp is doing a giveaway with all these generous gifts! Click on the link above to enter!!
Till next time, lovers
xoxoxCTang
p.s. Insomnia > C.Tang. It's currently 6:46 am and I have yet to fall asleep...hahaha
----------------------
EDIT
I saw these today and putting him as number 6.
John Krasinski

Nothing says attractive like nerd chic... especially on guys! Jim aka John from the Office has got it going on... and he's funny :D